Foreign Secretary meets Syrian activists
Foreign Secretary William Hague and Foreign Office Minister Alistair Burt met Syrian human rights activist Catherine al-Talli and opposition member Bassam Ishak on Thursday 29 September.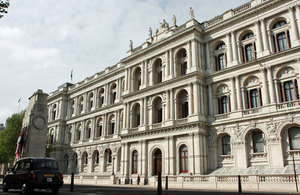 Following the meeting, the Foreign Secretary said:
"Catherine al-Talli and Bassam Ishak have been forced into exile by a brutal regime that has lost all legitimacy. President Assad must step aside so that credible reform can begin. Syrians from all walks of life and all religious communities have been united in their opposition to the regime's attempts to violently suppress their legitimate aspirations for a better future.
"It is now vital for the many groups that form the Syrian opposition to unite and work together to define a shared vision for the future of Syria. We urge them to continue to ensure that their protests are peaceful, to renounce sectarianism, and to work towards a Syria where the political system is inclusive, representative and adheres to international human rights standards.
"Reports of human rights abuses in Homs and other cities continue to emerge. The Syrian regime must end the violence and allow comprehensive reform."
Published 30 September 2011