Foreign Secretary meets Spanish Foreign Minister
Foreign Secretary William Hague said that the UK and Spain maintain a "strong bilateral relationship following his meeting with the Spanish Foreign Minister José Manuel García-Margallo.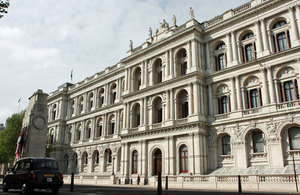 Speaking after the meeting the Foreign Secretary said:
"It was a great pleasure to welcome Spanish Foreign Minister Jose Manuel Garcia-Margallo to the United Kingdom today. We maintain a strong bilateral relationship. We spoke about the challenges faced by the Eurozone and the critical need for the EU to agree measures to deal with the economic crisis and encourage growth. We also discussed wider foreign policy issues including co-operation on Syria, Iran and Latin America.
"We reiterated our joint support for a local solution to the current fishing dispute in Gibraltar. Clearly our views on this differ, but we both recognise the importance of establishing a dialogue between all parties. I look forward to working closely with the Minister in the future."
Published 29 May 2012