Foreign Secretary meets Spanish Foreign Minister
Foreign Secretary William Hague discussed the Middle East, Latin America and UK-Spain relations with Spanish Foreign Minister Trinidad Jiménez in London on 17 February.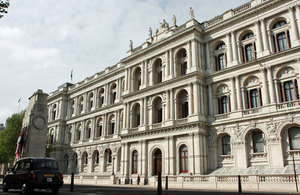 Speaking after the meeting the Foreign Secretary said:
"It was a great pleasure to welcome Minister Jimenez to the United Kingdom today.
"Bilaterally the relationship between our countries is a strong and of course a historic one. Over 800,000 British people live in Spain and last year the UK was the biggest foreign investor in Spain. Spain's support on defence issues and in tackling organised crime is of enormous value to the United Kingdom and greatly valued by me and my colleagues in government.
"We've both recently returned from visits to the Middle East, Trini from Israel and the Occupied Palestinian Territories, and last week I visited Tunisia, Jordan, Yemen, Bahrain and the United Arab Emirates. We discussed our views of the changing political situation in the Middle East.
"I am confident that the breadth and depth of the relationship between our two countries will grow stronger in the future. I look forward to working closely with the Minister on a range of issues that affect both our countries, from our partnership in Afghanistan to strengthening our commercial links, to harnessing the power of the Latin American markets, and working towards a stable and secure Middle East."
Published 17 February 2011