Foreign Secretary meets Romanian Prime Minister
Foreign Secretary William Hague discussed the strategic partnership between the UK and Romania when he met the Romanian Prime Minister Victor Ponta in Bucharest on 17 July.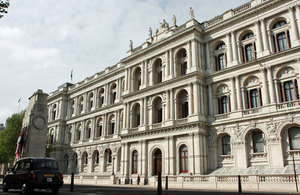 They also discussed the political situation in Romania. The Foreign Secretary underlined the need for all political actors to respect and abide by the Constitution, and to respect the institutions of the state and the decisions taken by the courts. He welcomed the assurances from Prime Minister Ponta that the Constitutional Court's decisions were being applied, and that the forthcoming referendum on 29 July would be held in accordance with the Court's recent ruling on the Referendum Law.
He added that, at a time of economic uncertainty in Europe, it is all the more important for politicians of all parties to preserve confidence in Romania, to clearly demonstrate and uphold the rule of law, ensure political stability and to continue the progress under the Cooperation and Verification Mechanism (CVM).
The Foreign Secretary discussed the bilateral relationship with Prime Minister Ponta, welcoming the increase in bilateral trade and excellent co-operation on security and defence issues, including in Afghanistan. He stressed the UK's continued commitment to assist Romania's institutions in reforming the judiciary and pursuing the fight against corruption, including through provision of UK technical expertise.
Published 17 July 2012