Foreign Secretary meets representatives of Guantanamo detainee
Foreign Secretary William Hague said that the UK will continue to raise Guantanamo detainee Shaker Aamer's case with the US when he met his representatives in London today.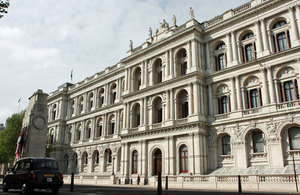 Speaking after the meeting the Foreign Secretary said:
"Today I met with Mr Aamer's MP and his legal representatives. I would like to thank them for their open and honest discussion of Mr Aamer's case, and their obvious concern for his welfare.
The UK believes that indefinite detention in Guantanamo Bay is wrong and will continue to call for Guantanamo Bay to be closed and Mr Aamer to be returned to his family in the UK. I have personally raised his case with Secretary Clinton on a number of previous occasions, and we will continue to engage with the US on this issue until a solution is reached."
Published 1 March 2012