Foreign Secretary meets Prince Saud, Foreign Minister of Saudi Arabia
Foreign Secretary William Hague reaffirmed the strength of the UK's bilateral relationship with Saudi Arabia, a key strategic partner in the region during the meeting on 22 March.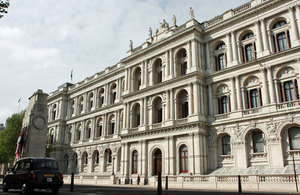 The Foreign Secretary and Prince Saud had a wide-ranging discussion of developments in the region, in particular in Libya, Bahrain and Yemen. They also discussed how both countries could further strengthen UK/Saudi bilateral relationship and strategic dialogue.
On Libya Prince Saud underlined Saudi Arabia's firm support for the implementation of UNSCR 1973 in order to protect Libyan civilians. Prince Saud said there would be further discussion within the Arab League of how Arab states would support implementation of this resolution, and the Foreign Secretary reaffirmed the importance the UK places on working with Saudi Arabia and the Arab League on Libya.
On Yemen, the UK and Saudi Arabia agreed that it is urgent all parties play a responsible role in bringing about political and economic reform, and take immediate action to defuse the tense situation and prevent further violence. Any process of reform must address the genuine demands of the Yemeni people and build a peaceful and secure future for the country.
The Foreign Secretary and the Saudi Foreign Minister also had a constructive discussion on Bahrain. They agreed that both countries shared the same goal: a process of dialogue leading to political reform that can addresses the legitimate aspirations of all the people of Bahrain. The Crown Prince's initiative for national dialogue offers an opportunity to achieve this, and the UK Government urges all parties to join without preconditions. The Government further urges all sides to take steps to de-escalate tensions in the country. The Foreign Secretary and Prince Saud agreed that the GCC forces, who are in Bahrain at the legitimate invitation of the Bahraini Government, should work to create the right conditions for the national dialogue.
The UK will continue to work closely with Saudi Arabia across the range of issues of mutual interest, including the ongoing threat posed by Iran's nuclear programme, the Middle East Peace Process and in Afghanistan, where the UK and Saudi Arabia want to work together to support any transition and reconciliation.
During his visit to the UK, the Saudi Foreign Minister also met Prime Minister David Cameron.
Published 23 March 2011