Foreign Secretary meets President of Estonia
The Foreign Secretary William Hague met with President Toomas Ilves of Estonia during a bilateral meeting on 11 August.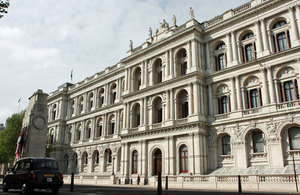 They enjoyed productive talks on bilateral, European and defence issues.
The Foreign Secretary thanked President Ilves for Estonia's continued support in Afghanistan and welcomed the opportunity for closer cooperation in the future. The Foreign Secretary also highlighted the need to work closely together on boosting economic growth within the EU. He looked forward to the two countries supporting each other's objectives within the EU as well as furthering the already strong bilateral relationship.
The Foreign Secretary congratulated Estonia on their successful performance in the London 2012 Olympic games so far, noting their medal wins in wrestling and discus and hoping the Estonian athletes had enjoyed their time in London.
Published 11 August 2012