Foreign Secretary meets Nobel Peace Prize winner
Foreign Secretary William Hague met Tawakul Karman, the Yemeni recipient of the Nobel Peace Prize in London on 15 December.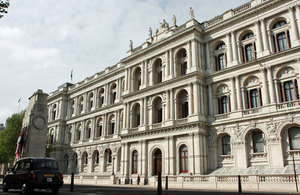 Following the meeting the Foreign Secretary said:
"I was delighted to welcome Tawakul Karman, Yemeni political activist and recent co-recipient of the Nobel Peace Prize, to London today. Ms Karman is the youngest ever Nobel Peace Prize winner and the first Arab woman to receive this accolade. It is particularly fitting that, in a year of change cross the Middle East and North Africa, someone so passionate about the rights and freedoms we take for granted should be given this honour.
"We discussed the importance of peaceful and inclusive political transition in Yemen and I reiterated the UK Government's ongoing commitment to supporting this. I welcomed Ms Karman's call for all Yemenis, both men and women, to unite to create a democratic society free from corruption and violence and based on the rule of law."
Published 15 December 2011