Foreign Secretary meets new French Foreign Minister
Foreign Secretary William Hague called on his new French counterpart, Alain Juppé, in Paris on 3 March.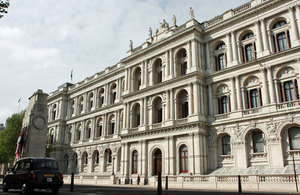 The two Ministers discussed the crisis unfolding in Libya and looked ahead to the special European Council meeting to be held in Brussels on 11 March, which will consider the EU's response to Libya as well as other events in North Africa.
The Foreign Secretary announced that France and the UK were working together on ambitious proposals for the European Council. The French Foreign Minister said that the two countries also agreed on the need to start contingency planning for a no fly zone so as to be prepared if Qadhafi's threats to use further force against his own population were realised, adding that Qadhafi had lost all legitimacy by his actions. The Foreign Secretary also called for Qadhafi to go. At the working lunch, the two Ministers also discussed immigration, the European Neighbourhood Policy and Union for the Mediterranean.
Published 3 March 2011