Press release
Foreign Secretary meets Montenegrin Deputy Prime Minister
Welcoming Deputy Prime Minister, Igor Lukšić, the Foreign Secretary today noted Montenegro's encouraging start to EU membership negotiations.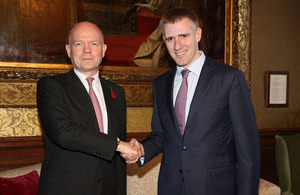 William Hague met Montenegrin Deputy Prime Minister and Minister for Foreign Affairs and EU Integration Igor Lukšić today. The Foreign Secretary welcomed Montenegro's positive start to EU accession negotiations, but noted the challenges ahead.
Mr Hague said:
In my meeting with Deputy Prime Minister Lukšić of Montenegro I reiterated the UK's firm support for Montenegro's Euro-Atlantic future. Since opening EU accession negotiations Montenegro has made a strong start on implementing reforms required ahead of EU membership. I encouraged further progress on key issues including judicial reform, rule of law, and tackling organised crime and corruption and I discussed our desire to intensify cooperation in these areas. The UK is a firm supporter of enlargement of the EU, a process that will help deliver stability, security and prosperity for the Western Balkans. I also welcomed Montenegro's contribution to ISAF and continuing efforts to meet the criteria for NATO membership".
Further information
Follow the Foreign Secretary on facebook and on twitter: @WilliamJHague.
Follow the Foreign Office on twitter.
Follow the Foreign Office on facebook & google+.
Published 30 October 2013