Foreign Secretary meets Maltese Prime Minister
Foreign Secretary William Hague discussed the situation in the Middle East and Libya as well as the EU during his meeting with Maltese Prime Minister Dr Lawrence Gonzi on 10 May.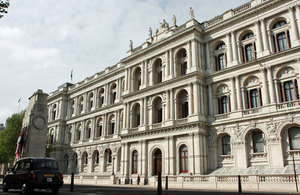 Speaking following the talks, the Foreign Secretary said:
"It was a great pleasure to welcome the Prime Minister to London today. We've had a good meeting of minds on so many different subjects, many subjects concerning the European Union and its future development but we've also had chance to discuss the situation in North Africa and the Middle East and of course we are anxious to ensure that the policies we're pursuing on Libya succeed and that peace is returned to Libya as soon as possible. I know this is something very important to Malta and to the entire region.
It's very important that the whole of Europe adopts an approach to North Africa and the Middle East that allows a new relationship in the future that makes a big, open and generous offer to these countries so that they can work closely with the members of the European Union in the future.
We've been able today to celebrate the close relations between the United Kingdom and Malta. We are very grateful for the help of Malta with a number of recent events and we feel very strongly that the UK shares an intimate friendship with Malta."
Published 11 May 2011