Foreign Secretary meets Libyan Interim Transitional National Council Special Envoy
Foreign Secretary William Hague today met Mr Mahmoud Jabril, Special Envoy for the Libyan Interim Transitional National Council to discuss the situation in Libya ahead of the London Conference.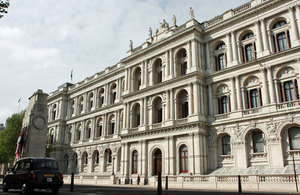 Speaking after the meeting the Foreign Secretary said:
"I was delighted to invite Mr Jabril to London today. Mr Jabril and I have spoken on several occasions over the past week and he has come to London at my request. The ITNC is an important and legitimate political interlocutor and the UK is committed to strengthening our contacts with a wide range of members of the Libyan opposition who are working to create a Libya where the legitimate aspirations of its people can be met.
We discussed the current political and humanitarian situation in Libya. We agreed on the absolute importance of protecting and safeguarding civilians in Libya. We considered how best the UK as well as other attendees at today's London conference can best support the Libyan people, and I asked for Mr Jabril's assessment of the humanitarian needs in Libya and priorities for international assistance".
Published 29 March 2011