Foreign Secretary meets Kuwaiti Foreign Minister
Foreign Secretary William Hague met Kuwaiti Foreign Minister Sheikh Dr Mohammed Al Sabah in London on 21 July.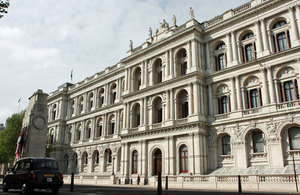 Speaking after the meeting the Foreign Secretary said:
"I am delighted to welcome the Kuwaiti Foreign Minister Sheikh Dr Mohammed Al Sabah. Relations between the UK and Kuwait are stronger than ever and our meeting today was a chance to reaffirm the shared commitment to deepening these further.
We discussed recent developments in the Middle East region where we are working closely together.
On Libya we agreed that Qadhafi has lost all legitimacy in the eyes of the Libyan people and the international community and that he must go. We also discussed the importance of a political solution, led and owned by Libyan people but facilitated by UN Special Envoy Al Khatib. I welcomed Kuwait's provision of $50 million of their pledged $180 million contribution to the Temporary Finance Mechanism for the National Transitional Council.
We shared our concerns about the situation in Syria. I made clear that unless President Assad made major, wide-ranging reforms he should step aside. Violent repression will only further undermine the regime's legitimacy and raise serious questions about whether it is committed to the changes it has recently announced. No meaningful political dialogue can take place while there is a brutal military crackdown that threatens Syrian and regional security and stability."
Published 22 July 2011