Foreign Secretary meets Jordanian Foreign Minister
Foreign Secretary William Hague met Jordanian Foreign Minister Nasser Judeh on 5 July 2010.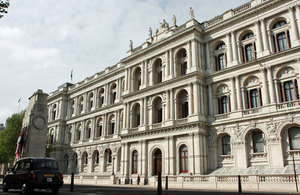 Following the meeting, Foreign Secretary William Hague said:
"I had an excellent meeting with Foreign Minister Judeh today. Jordan is a very close partner for the UK and we attach great importance to our relationship. Today's meeting underlined the strong bonds of friendship and co-operation between our two countries. Foreign Minister Judeh and I discussed the pursuit of peace in the Middle East. I reaffirmed the UK's unwavering commitment to a two-state solution to the Arab-Israeli conflict.
We discussed the need for a solution based on the 1967 borders, with a just settlement for refugees and with Jerusalem as the future capital of both states. We noted the urgency of pursuing efforts to make this a reality, including action to address the situation in Gaza.
We also discussed the British Government's plans to pursue a distinctive British foreign policy in the Middle East which we regard as a region of great opportunity and promise. We intend to embark on a major-long term effort to elevate Britain's links with the countries of the Gulf, North Africa and the Middle East with the goal of greater political consultation between our Governments and more contact between our citizens. Jordan will be an important partner in this effort."
Published 5 July 2010