Foreign Secretary meets Japanese Foreign Minister
William Hague met the Japanese Foreign Minister for two hours of wide-ranging talks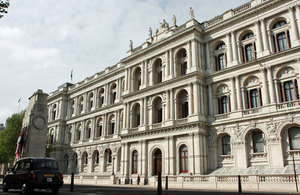 The Foreign Secretary and Foreign Minister Okada met for over two hours. They discussed the need to further strengthen the UK-Japan relationship and focussed on key shared priorities such as Afghanistan, non-proliferation, Iran, North Korea, climate change, Burma and overseas development assistance. They also agreed to work together to prepare a joint UK-Japan statement for their Prime Ministers.
The Foreign Secretary emphasised the importance of the UK-Japan relationship, both in cooperating on key foreign policy issues, but also in building a strong and mutually beneficial economic and commercial relationship.
On foreign policy issues, Japan and the UK shared key values and were often in agreement, including on Afghanistan, Iran and non-proliferation. The Foreign Secretary underlined his appreciation of the very important role Japan played internationally, including through its $5bn contribution to Afghanistan and its leadership on climate change, where its pledge to cut carbon emissions by 25% by 2020 was a "gleaming example to other developed nations". Given this important international role, it was natural that the UK supported Japan's bid for a permanent seat on the UN Security Council. He also underlined the UK's strong support for the Republic of Korea and Japan's approach to North Korea following the sinking of the Korean Naval ship, the Cheonan.
The Foreign Secretary also highlighted the importance of the UK-Japan bilateral relationship to the UK economy, with 1200 Japanese companies responsible for 100,000 jobs. But there was immense potential to strengthen the relationship further. Increasing UK-Japan and EU-Japan trade would benefit all and an early focus on non-tariff barriers was a high priority. He also underlined his support for BAE Systems' role, as part of the Eurofighter consortium, in bidding to supply Japan's future fighter aircraft.
Search the news archive
Published 16 July 2010