Foreign Secretary meets Italian Foreign Minister
Foreign Secretary William Hague and Italian Foreign Minister Franco Frattini discuss partnerships and strength of commercial ties.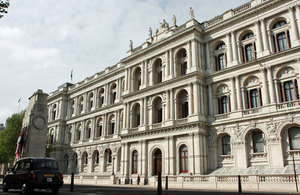 The Foreign and Defence Secretaries were pleased to welcome Italian Foreign Minister Franco Frattini and Italian Defence Minister Ignazio La Russa to London this morning, as part of a commitment to upgrade and intensify relations. Italy is a close partner for the UK and today's meeting underlined our strong bonds of friendship and co-operation.
Following the outcomes of the Kabul Conference, they discussed how important progress can be made on the transition of Afghan provinces from ISAF control to the Afghan National Security Forces (ANSF). The UK will continue to support the training and growth of the ANSF and Italy is an important partner in this effort.
In the Foreign Secretary's and Foreign Minister Frattini's separate talks, they discussed mutual concerns about the Iranian nuclear programme and the progress of EU sanctions against Iran. The strength of our commercial ties were underlined, and strong partnerships were emphasised, particularly in the defence and energy sectors.
The Foreign Secretary also stressed that Italy will be a significant partner in our drive to increase trade and investment, which is at the heart of the UK's economic recovery plans. They also touched on other areas of mutual interests including the situation in Gaza and the wider Middle East, Somalia, Yemen, and developments in the Western Balkans.
Published 21 July 2010