Foreign Secretary meets Israeli opposition leader
Foreign Secretary William Hague met Israeli opposition leader Tzipi Livni to discuss UK-Israel relations and recent events in the region.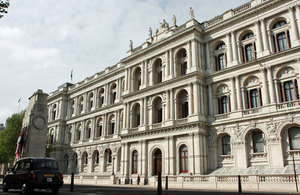 Ms Livni thanked the Foreign Secretary for the government's swift move to prevent the political abuse of legal procedures through the Police Reform and Social Responsibility Act.
Speaking after the meeting the Foreign Secretary said:
"I was delighted to welcome Ms Livni to London at a critical moment for the Middle East. It was an appalling situation when political abuse of our legal procedures prevented people like Mrs Livni from travelling legitimately to the UK. We have dealt with this urgently as we promised to on coming to office. The UK will continue to honour our international obligations and make sure that people who have committed some of the most awful crimes - wherever in the world they took place - can be brought to justice in our courts.
"Today's meeting showed the warmth and strength of our bilateral relations. Israel is an important ally and we will continue to work together to face common threats such as the Iranian nuclear programme. We discussed the importance of building support for a two state solution that leads to a lasting peace in the Middle East. I made clear my desire to see Israel secure now and in the future, alongside a Palestinian state, and my belief that both Israelis and Palestinians should return to talks in line with the Quartet Statement."
Published 6 October 2011