Foreign Secretary meets Israeli Defence Minister
Foreign Secretary William Hague met Israeli Defence Minister Ehud Barak in London on 3 November to discuss developments in the Middle East.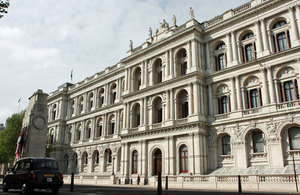 Speaking after the meeting the Foreign Secretary said:
"I had a good meeting with Defence Minister Barak. I welcomed the ongoing efforts to deepen and broaden our bilateral relationship. I condemned the recent rocket attacks on Israeli civilians, reiterated that the UK is fully committed to Israel's security and welcomed the release of Israeli soldier Gilad Shalit as part of a prisoner exchange.
"But I also made clear the UK's unequivocal condemnation of the announcement this week of 2,000 more settlement units in east Jerusalem, Efrat and Maale Adumim and threats to withhold Palestinian tax revenues. These steps undermine efforts to achieve peace, and increase Israel's isolation at a time of enormous change in the Middle East region when we need to work together on shared concerns such as the appalling situation in Syria and the threat posed by Iran's nuclear programme. I urged Israel to revoke the plan for new settlements and to avoid further provocative steps which only make more difficult the Quartet's attempt to facilitate a return to talks."
Published 4 November 2011