Foreign Secretary meets Iranian Foreign Minister
Foreign Secretary William Hague met Iranian Foreign Minister Salehi at the UN in New York on 21 September.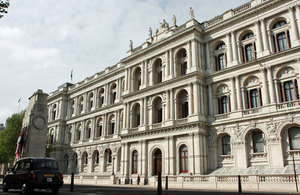 The Foreign Secretary emphasised that there was no animosity between the British people and the Iranian people. The UK would continue to seek areas on which it could build deeper cooperation with Iran, such as counter-narcotics and Afghanistan. But there were important areas of disagreement between the UK and Iran.
The UK respected Iran's right to civil nuclear power. But Iran had not persuaded the international community that its nuclear programme was for peaceful purposes. The UK would, as part of the E3+3 maintain its strong resolve to oppose nuclear proliferation.
The Foreign Secretary told Mr Salehi that the UK believed in universal human rights. In that context, the execution today of a 17-year old boy, in contravention of Iran's obligations under the International Convention on Civil and Political Rights, had caused huge international concern.
Published 21 September 2011