Press release
Foreign Secretary meets human rights campaigners in Sri Lanka
Foreign Secretary William Hague meets human rights campaigners in Sri Lanka and supports reconciliation.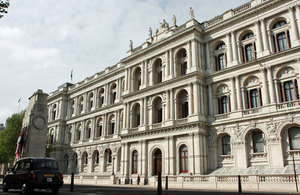 The Foreign Secretary William Hague and Foreign Office Minister of State Hugo Swire met with human rights defenders in Sri Lanka today while attending the Commonwealth Heads of Government Meeting in Sri Lanka. The Foreign Secretary heard from several groups involved in monitoring and reporting on human rights abuses. He asked them about the current situation on the ground and what more the UK can do to support their efforts.
The Foreign Secretary said:
I was determined to come to Sri Lanka to hear about the human rights situation first hand and to raise our concerns directly with the Sri Lankan government. I am grateful to the groups I met with today for their honest analysis of the situation. They must be able to operate free from fear of harassment and physical threats.
The UK co-sponsored a US-led resolution at the UN Human Rights Council this year calling for implementation of the Lessons Learnt and Reconciliation Commission recommendations and further action on reconciliation and accountability for alleged violations of international law. We cannot and will not turn a blind eye to the abuses which occur whether they are about freedom of expression, impunity for disappearances or sexual violence, freedom from torture and the lack of accountability for alleged war crimes.
Further information
Read the UK's news from Sri Lanka and the Commonwealth Heads of Government meeting on storify
Follow the Foreign Secretary on twitter @WilliamJHague
Follow the Foreign Office on twitter @foreignoffice
Follow the Foreign Office on facebook and Google+
Published 17 November 2013