Foreign Secretary meets Government of South Sudan delegation
Foreign Secretary comments on the meeting with Pagan Amum, Secretary-General of the governing party, and Grace Daterio, Deputy Minister of Foreign Affairs.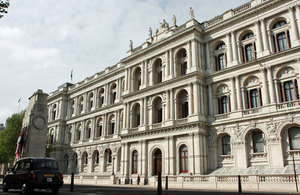 Foreign Secretary, William Hague, said:
"We discussed the worrying situation between Sudan and South Sudan in recent weeks, and the need for an end to all cross-border military activity by both countries. I stressed the UK's complete support for the African Union in its effort to reach a peaceful solution.
"I welcomed South Sudan's announcement of an immediate cessation of hostilities and its intention to withdraw its police from the disputed area of Abyei, in line with the African Union's roadmap for peace. I reiterated the UK's call for Sudan to make a similar commitment to a ceasefire and to withdraw its armed forces from Abyei, in keeping with its international obligations. I underlined the need for both governments to end all support to armed rebel movements in the other country.
"We also discussed the urgent need for talks between Sudan and South Sudan to resolve all outstanding issues between them, including management of oil. I underlined the UK's continued commitment to helping both Sudan and South Sudan achieve security and prosperity for their people, in the context of a comprehensive settlement of their disputes."
Published 1 May 2012