Foreign Secretary meets EU & Latin American foreign ministers in Spain
Foreign Secretary William Hague is visiting Spain today to attend a meeting of EU, Latin American and Caribbean Foreign Ministers.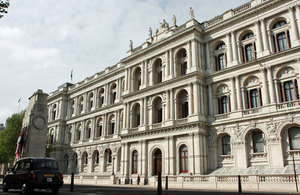 The meeting is being held in advance of the EU-Latin America and Caribbean (LAC) Summit in Madrid on Tuesday 18 May.
The Foreign Secretary said: "I am very pleased to have such an early opportunity to meet so many of my European, Latin American and Caribbean colleagues.
"The relationship between the countries of Europe and Latin America and the Caribbean is of great importance for many shared challenges including the global economy, the environment, and tackling global poverty. As we have said, the new British Government will be active and activist in the European Union from day one."
The visit follows closely on from the Foreign Secretary's trip to the US last week to meet Secretary of State Hillary Clinton.
The meeting will be attended by President of the European Council Herman van Rompuy, Commission President Barroso and High Representative Cathy Ashton along with representatives of the 27 EU Member States and the 33 independent states of South and Central America and the Caribbean.
Travelling with the Foreign Secretary is newly appointed Minister of State for the Foreign and Commonwealth Office, Jeremy Browne who will represent the UK at the Summit on the 18th.
The Summit, co-chaired by EU President van Rompuy, Prime Minister Zapatero for the Spanish Presidency of the EU and by the Argentine President, Cristina Fernandez de Kirchner, for the LAC, will focus on the bi-regional relationship in a globalised world.
Published 17 May 2010