Foreign Secretary meets Cypriot Foreign Minister
Foreign Secretary William Hague described Cyprus as an important partner for the UK after he met Cypriot Foreign Minister Dr Erato Kozakou-Marcoullis on 8 November.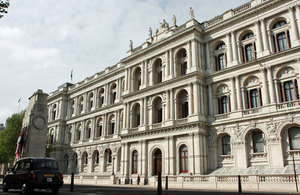 Speaking after the meeting in London the Foreign Secretary said:
"It was a great pleasure for me to host the Cypriot Foreign Minister, Dr Erato Kozakou-Marcoullis, for the first time today since her nomination in August.
Cyprus is an important partner for the UK, both within the EU and of course within the Commonwealth. We work extremely closely together in these forums, and our shared history gives us a particularly strong bilateral relationship.
Our fruitful discussion today focused on our shared priorities, including progress toward a Cyprus settlement, regional issues, the Middle East and our bilateral relationship.
On 31 October President Christofias and Dr Eroglu met with the United Nations Secretary General for their latest round of discussions, seeking to resolve the outstanding issues and achieve a Cyprus settlement. The outcome of these talks is, I'm pleased to say, promising, and I hope that further progress can be made between now and the next meeting with Secretary General Ban in January.
I look forward to working closely with Foreign Minister Dr Kozakou-Marcoullis in the future and strengthening our relationship still further, particularly in the run up to Cyprus' EU Presidency in 2012."
Published 9 November 2011