Press release
Foreign Secretary meets Bangladesh Prime Minister
The Foreign Secretary met the Prime Minister of Bangladesh Sheikh Hasina today. They were joined by Senior FCO Minister Baroness Warsi.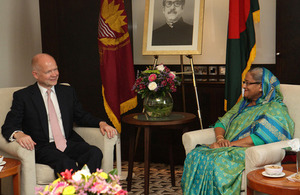 They discussed human rights issues and the political situation in Bangladesh, where the British Bangladeshi community has a close interest in developments, including the need for all sides to refrain from violence, and for free, fair and inclusive elections.
Discussing the recent factory building collapse in Savar, Foreign Secretary William Hague encouraged Prime Minister Sheikh Hasina to work with all those involved in the garment sector to pursue implementation and enforcement of reforms that protect workers.
The Foreign Secretary said:
We have all seen the critical need to improve working conditions and ensure the health and safety of workers in the garment industry. The industry has played a vital role in Bangladesh's economic and social development and I hope this positive influence will continue.
Further information
Follow @foreignoffice and @FCOHumanRights on Twitter
Follow the Foreign Office on facebook and Google+
Subscribe to the announcements feed or email alerts to get our latest news and announcements.
Published 4 July 2013