Foreign Secretary meets Aung San Suu Kyi
Foreign Secretary William Hague welcomed Aung San Suu Kyi to the Foreign Office today.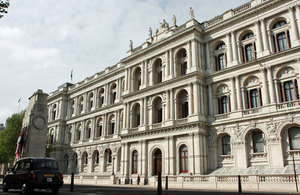 Following his meeting with Daw Aung San Suu Kyi the Foreign Secretary said:
"It was a pleasure to welcome Daw Aung San Suu Kyi to the Foreign and Commonwealth Office during her historic return to the UK. She is a symbol of hope to all those people around the world striving for democracy.
"The progress we have seen in Burma is testament to the bravery and vision shown by Aung San Suu Kyi and President Thein Sein. They have embarked on a process of reform that could bring genuine democracy to Burma. The fact that Aung San Suu Kyi now feels able to leave Burma and return to the UK for the first time since 1988 is a signal to the world of how much the situation in Burma has changed.
"However Burma still faces many challenges. We discussed the UK's support for the reform process and desire to help the people of Burma achieve economic development, entrench the rule of law, build democratic institutions and end ethnic conflict."
Further Information
Watch the video of Aung San Suu Kyi's speech at the Foreign Office
Published 22 June 2012