Foreign Secretary meets African Union Chair
Foreign Secretary William Hague met African Union Chairperson Dr Jean Ping in London on 4 July.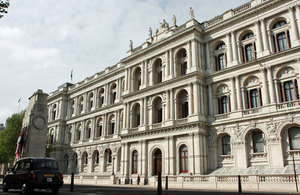 Speaking after the meeting the Foreign Secretary said:
"I was pleased to welcome African Union Chairperson Jean Ping to the UK following the AU Summit in Malabo last week. The attendance of Andrew Mitchell and Henry Bellingham at this demonstrated our proactive engagement with the AU on Libya. Today Jean Ping and I had a useful discussion on the outcomes of the Summit and next steps in the run-up to and following the Contact Group on 15 July.
We welcome all efforts to achieve an end to the regime's continued attacks on civilians and a transfer of power in Libya. I made clear that the AU has an important role to support what must be a Libyan-led and owned process to reach a political settlement, with the support of the UN and wider international community.
There are many elements of the AU proposal which we can work with. It is important that the AU has signalled that Qadhafi cannot be part of the negotiation process, and that there must be a transfer of power.
As we have said all along, and the NTC have said again today, to be credible and inclusive any political process must be clearly based on Qadhafi going, with no role in the future of Libya. Qadhafi and his family have lost all legitimacy and should leave the Libyan people to decide their own future. We will continue to work with the NTC, the AU and others to secure the political transition that Libya needs."
Published 4 July 2011