Foreign Secretary marks 50th anniversary of the Berlin Wall
Foreign Secretary William Hague has described the construction of the Berlin Wall as one of the "darkest days for post-War Europe".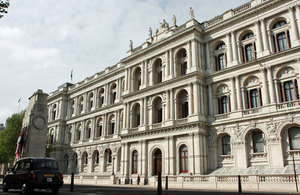 Speaking ahead of the 50th Anniversary of the construction the Foreign Secretary said:
"Fifty years ago on 13 August the world awoke to over 100km of barbed wire encircling West Berlin. This was one of the darkest days for post-War Europe, just as one of the brightest was that autumnal day when the German people on both sides tore down the Wall.
"Some have compared the events of the Arab Spring in Tunisia and Egypt to the uprisings of the people of Eastern Europe against communism. But today there are still dictators who prefer to take the 1961 path, rather than allow their people the freedom of 1989. We see the will of the people being suppressed in brutal fashion in Syria, Libya, Belarus and Burma. Berlin and Germany show that humanity's hopes and dreams for a better future can never be truly suppressed. On this anniversary, I hope this truth inspires these peoples to achieve their freedom."
Published 11 August 2011