Press release
Foreign Secretary marks 20 years since Hong Kong handover
1 July 2017 marks 20 years since Hong Kong was established as a Special Administrative Region (SAR) of China.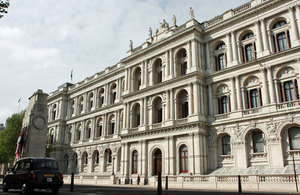 20th Anniversary of Hong Kong handover
The Foreign Secretary Boris Johnson said:
The first of July marks 20 years since Britain returned Hong Kong to China.

And it's a moment to reflect on Hong Kong's immense achievements as a thriving and dynamic city, serving as a gateway to the biggest and fastest-growing markets in the world.

The rule of law, an independent judiciary, and a free media have all been central to Hong Kong's success.

As we look to the future, Britain hopes that Hong Kong will make more progress towards a fully democratic and accountable system of government.

And I want to stress that Britain's commitment to Hong Kong – enshrined in the Joint Declaration with China – is just as strong today as it was 20 years ago.

I've no doubt that Hong Kong's future success will depend on the rights and freedoms protected by that treaty.

In that spirit, it's essential that the principle of 'One Country, Two Systems' should continue to provide the basis of Hong Kong's way of life into the future.
Further information
Read the Foreign Secretary's Written Ministerial Statement to Parliament
Published 29 June 2017