Press release
Foreign Secretary Jeremy Hunt to visit Japan
Foreign Secretary Jeremy Hunt arrives in Tokyo on 17 September for a 2-day visit to Japan.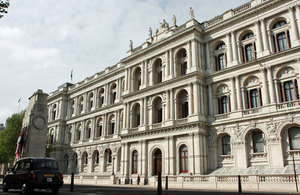 As part of the annual Strategic Dialogue between the UK and Japan, the Foreign Secretary will hold talks with his counterpart, Foreign Minister Taro Kono on Tuesday, to discuss key areas of close cooperation, including our future economic partnership, security and defence, and foreign policy issues such as the Korean Peninsula.
Foreign Secretary Hunt will also meet Japanese Prime Minister Shinzō Abe to discuss the UK's commitment to working with Japan during a very busy two years, which will see Japan host the G20, Rugby World Cup in 2019 and the 2020 Olympics and Paralympics in Tokyo. He will also offer condolences on the deaths and destruction caused by the recent Typhoon 21 in the Kansai area and earthquake in Hokkaido.
A spokesman for the Foreign Secretary said:
The UK and Japan are both globally engaged, democratic nations, supporters of the rules-based international system.

As the UK leaves the European Union next March, the Foreign Secretary's talks this week will be an opportunity to deepen our close cooperation on security and defence, and further enhancing our excellent trade relationship.
During his visit to Tokyo, Foreign Secretary Hunt will also meet the Governor of Tokyo, Yuriko Koike and donate an old mobile phone to the 'phones for Tokyo 2020' initiative, a project launched by Tokyo 2020 to recycle old electronic devices and turn them into medals ahead of the Olympic and Paralympic Games in 2020.
The Foreign Secretary will also host a breakfast meeting with the Chief Executive Officer of Eisai, one of Japan's largest pharmaceutical companies and tour Hie Shrine, the highly respected place of worship for the people of Tokyo.
Further information
Published 17 September 2018