Foreign Secretary in Washington
Foreign Secretary William Hague has arrived in Washington DC today for talks with US Secretary of State Hilary Clinton.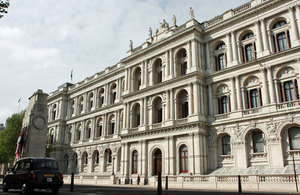 The Foreign Secretary's first overseas visit is to Washington DC where he will discuss the UK and US's approach to Afghanistan and Iran, as well as other foreign policy issues.
Speaking on the BBC News Channel the Foreign Secretary said:
"It is really vital to increase the peaceful pressure on Iran while making clear to them of course that there is the prospect of much better cooperation in the future if they would turn aware from the path they've been embarked on in recent times."
The UK's involvement in Afghanistan was discussed at the first National Security Council meeting held on Wednesday. The Foreign Secretary has indicated that Afghanistan will be one of his top priorities.
Published 14 May 2010