Foreign Secretary in Afghanistan
Foreign Secretary William Hague and International Development Secretary Andrew Mitchell have arrived in Afghanistan to attend the Kabul International Conference being held on Tuesday 20 July.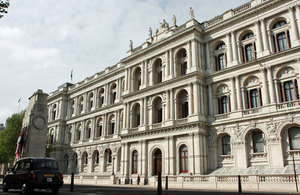 Representatives from around 70 partner countries, international and regional organisations and financial institutions will also attend.
If you would like to ask the Foreign Secretary a question about the Kabul Conference and Afghanistan, post your questions to @WilliamJHague ** **using the hashtag #fsinkabul. You can see his answers by either following his twitter feed or coming back our website later.
Earlier today, the Foreign Secretary and International Development Secretary Andrew Mitchell met President Karzai. They assured President Karzai that, as Prime Minister David Cameron had said, the UK remained a steady friend of Afghanistan.
President Karzai paid tribute to the efforts and sacrifice of British troops serving as part of the NATO-led International Security and Assistance Force in Afghanistan and expressed his gratitude for the recent announcement of a 40% uplift in UK development aid to Afghanistan.
The UK Foreign and International Development Secretaries stressed the importance of the Kabul Conference in demonstrating increasing Afghan leadership across a wide range of policies and issues. President Karzai agreed that it was vital to continue to tackle corruption and to improve governance at all levels in Afghanistan.
The British Ministers and President Karzai agreed on the importance of an Afghan-led process of reintegration and reconciliation, for which President Karzai was given a mandate at the Consultative Peace Jirga in June.
The Foreign Secretary also visited Herat University today where he met law and political science students. Read more
**
**
Background:
The conference will be opened by President Hamid Karzai, and UN Secretary General Ban Ki-Moon, and will be co-chaired by Foreign Minister Rassoul and UN Special Representative Staffan de Mistura.
The UK and Afghan Governments' shared goal remains a stable and secure Afghanistan which is able to maintain its own security and prevent Al Qaeda from returning.
Published 20 July 2010