Foreign Secretary hosts UK-China Strategic Dialogue
Foreign Secretary William Hague met State Councillor Dai of China for the third annual UK-China Strategic Dialogue in London.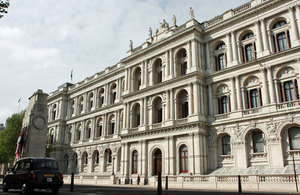 They discussed the full range of international issues and looked for new opportunities for the two countries to work together in future.
Speaking after the meeting the Foreign Secretary said:
"It has been my pleasure to host State Councillor Dai. This Strategic Dialogue is part of our ongoing commitment to a strong and fruitful relationship with China. It is an important forum for us to discuss international events and what we have in common as well as our differences.
"We live in a networked world that needs a global community to address problems. Our comprehensive relationship with China gives us the opportunity to address those challenges and discuss solutions together."
"We will continue to work with China on the global political agenda, as well as developing our economies, and a wider range of cultural exchanges on education, science and climate change. I look forward to more opportunities to engage with my counterparts in China in the months and years to come."
Published 26 September 2011