Foreign Secretary hosts Foreign Minister Alfredo Moreno of Chile
Foreign Secretary discussed ways that the UK and Chile can work together on a range of international issues when he met Chilean Foreign Minister Alfredo Moreno.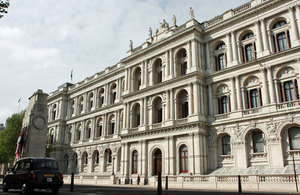 Speaking after the meeting he said:
"I am delighted to have met Foreign Minister Moreno during his visit to the UK.
"Chile is one of our greatest friends in the region and a valued international partner. We share common values on climate change, energy, human rights, education and international justice and security. Of course we also look forward to welcoming Chilean athletes to the London Olympic Games very shortly.
"Since this Government began I have been dedicated to reinvigorating the UK's relationship with Latin America. The Foreign Office has now opened new posts in Brazil and in El Salvador, we have seen a trebling of Ministerial visits to the region since 2010, and have had a series of Presidential visits to the UK.
"This is a region that is growing in influence and Chile is one of the world's fast-emerging economies. In our talks today we discussed how the UK and Chile can work together on the range of international issues that affect us and how we can make a difference together."
Published 11 May 2012