Foreign Secretary highlights progress made in Afghanistan
Foreign Secretary William Hague has published a progress report in Parliament of the key developments in Afghanistan during February.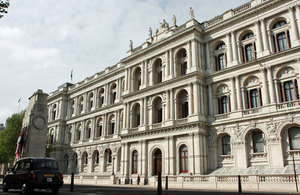 In a written ministerial statement the Foreign Secretary said:
"On 11 March a US soldier killed and injured a large number of Afghan Civilians in their homes. We send our deepest condolences to the victims and their families and we support the investigation into the attack. As General Allen, Commander ISAF, has stated this incident in no way represents the values of ISAF and coalition troops or the abiding respect we feel for the Afghan people.
On 6 March, five soldiers from the 3rd Battalion the Yorkshire Regiment and one from the 1st Battalion The Duke of Lancaster's Regiment were killed when their Warrior Armoured Fighting Vehicle was struck by an explosion. The Prime Minister expressed deep sadness at their deaths and said that it stood as a reminder of the huge sacrifice that our troops have made, and continue to make, for the work we are doing in Afghanistan. This incident will be reported, in full, in March's statement.
On 21 February, religious materials, including copies of the Qur'an, were mistakenly disposed of by US service personnel by burning at Bagram Airfield. This sparked a mass demonstration at the facility. In the following days protests spread to over 40 locations across Afghanistan. It remains unclear whether the incident will have any lasting repercussions. In the short term at least it has damaged Afghans' perception of ISAF forces.
NATO Defence Ministers met in Brussels on 2-3 February. NATO members restated their commitment to Afghanistan. The Secretary General reaffirmed that the decisions made at the Lisbon Summit will remain the bedrock of the ISAF strategy. Importantly this strategy will see ISAF forces remain in Afghanistan, in a combat role, until the transition process completes at the end of 2014.
Despite these events, the UK continues to work with the Afghan Government and its people to ensure that local communities benefit from better public services, including justice, healthcare, education and roads.
In his Written Ministerial Statement of 9 November 2009, the then Secretary of State for Defence set out the UK policy on the detention and transfer of persons captured by UK forces in Afghanistan. We are currently reviewing that policy, in the light of operational security requirements and the US-Afghan Memorandum of Understanding on detention arrangements signed earlier this month. Pending the results of this review, the UK is additionally and exceptionally holding two individuals whose continued detention we judge necessary, for force protection purposes, rather than to gain further intelligence.
We welcome the recent steps taken by the Governments of Afghanistan and Pakistan to enhance their relationship. Pakistani Foreign Minister Hina Rabbani Khar visited Kabul on
1 February. Prime Minister Gilani published a statement on 24 February which supported an inclusive Afghan led peace process. It called on the Taliban leadership and other insurgency groups to participate in a national reconciliation process. Hina Rabbani Khar visited London on 21 February. I and the International Development Secretary had productive and substantive discussions with her on the Enhanced Strategic Dialogue and other matters. These discussions included UK-Pakistan relations, Afghanistan and the importance of regional stability. Both Afghanistan and Pakistan recognise that their long-term prosperity and security depend on maintaining strong and positive relations with each other."
Published 23 March 2012