Foreign Secretary highlights progress made in Afghanistan
Foreign Secretary William Hague has published a progress report in Parliament of the key developments in Afghanistan during December.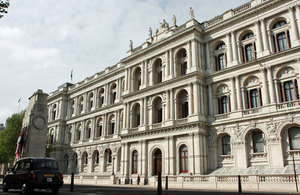 I wish to inform the House that the Foreign and Commonwealth Office, together with the Ministry of Defence and the Department for International Development, is today publishing the second progress report on developments in Afghanistan. It follows the first report covering November published on 14 December 2010.
The report focuses on key developments during the month of December.
ISAF operations continue to put pressure on the insurgency. More areas have been cleared of insurgent influence and, importantly, those areas are now being held. Increased ISAF and Afghan National Security Force operations are restricting the insurgents' ability to launch complex attacks. These gains are an important sign of progress, but they are not irreversible.
The Afghan National Security Forces continue to grow. By late December the Afghan National Army had reached a total size of 146,000, and the Afghan National Police 116,000. Further work is necessary on reducing attrition rates and increasing leadership quality. Training, mentoring and coaching programmes continue to improve overall Afghan National Security Force capability.
British forces, partnered by forces from the Afghan National Army, have temporarily extended their operations to secure greater freedom of movement along Highway One. This is to link the economic and population hubs of Helmand and Kandahar. Improved freedom of movement will enable ISAF and the Afghan National Security Forces to increase security in both provinces.
The Afghan High Peace Council convened further road shows to publicise the Afghan Peace and Reintegration Programme and to give guidance to Provincial Governors in Kandahar, Herat and Jalalabad. These followed an earlier road show held in Mazar-e-Sharif.
The Afghan Government has continued to make progress on its National Priority Programmes, in particular on financial and economic reform and health and education.
Elders and community representatives for the Marjah district in Helmand have agreed that elections for a District Community Council should be held in February 2011. This is an important reflection of growing confidence in Marjah.
The Helmand Police Training Centre, opened in December 2009 with UK support, is now enrolling 150 new recruits every three weeks for eight-week courses. In the last week of December, the 2000th recruit since its inauguration graduated from the Centre. Two UK-funded buildings were opened in December: a new detention centre and a temporary facility for juvenile prisoners. The UK supported training for Helmand's statutory justice officials on criminal law and on judicial ethics. The UK-funded Helmand legal aid office hired the Province's first female paralegal.
Regional economic cooperation was strengthened further with the 11 December signing of an agreement for the construction of the Turkmenistan, Afghanistan, Pakistan and India (TAPI) gas pipeline. The Presidents of Afghanistan, Pakistan, and Turkey met in Istanbul on 24 December 2010 to discuss security, infrastructure, trade and culture. We welcome this continued commitment to promoting peace and stability in the region.
Published 31 January 2011