Foreign Secretary highlights progress in Afghanistan
Foreign Secretary William Hague has published a progress report in Parliament of the key developments in Afghanistan during December 2011.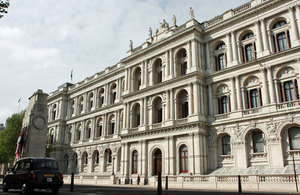 In a written statement he said:
"The Foreign and Commonwealth Office, together with the Ministry of Defence and the Department for International Development, is today publishing the thirteenth progress report on developments in Afghanistan since November 2010.
At the Bonn Conference the international community agreed in principle to provide financial support to Afghanistan for the decade after transition in 2014. For their part, the Government of Afghanistan committed to continue to progress with vital economic and governance reform. In support of this, the UK is helping local government deliver better services for local people by assisting Provincial Governors' offices with management training, and by supporting the implementation of development projects identified by communities in previously insecure districts. The new DFID funded Afghanistan Business Innovation Fund opened in December, inviting proposals for business ideas that will create sustainable jobs.
Nationwide the security situation in Afghanistan is improving and 2011 marked the first time that year on year violence levels decreased since the ISAF mission was expanded in 2006. This nationwide view of Afghanistan, while positive and a good indication of overall progress, should not distract our attention from a varied regional picture.
In 2011, recorded violence levels fell significantly in Regional Command South West, the UK's area of operations. However, these gains have been tempered by a notable increase in security incidents in the east of the country and a smaller rise in violence levels in Regional Command South. The uneven regional picture reminds us that the insurgency remains resilient, but they are also under significant and sustained pressure in the areas where the Afghan National Security Forces and ISAF are focussing their efforts. In this context we have seen the insurgency increasingly deploy less conventional methods to execute their campaign: the use of IEDs has increased and they have focussed their efforts on a series of high-profile assassinations and 'spectacular' attacks intended to undermine local perceptions of security. From a security perspective 2012 is likely to see further challenges as the insurgency attempts to regain its momentum. However, our resolve to achieve our stated aims in Afghanistan endures, and we will continue to work alongside the Afghans to consolidate the gains of 2011.
Published 31 January 2012