Foreign Secretary: "Flawed election in Burma does not represent progress"
"The British Government will stand by the people of Burma and will continue to maintain pressure on the regime until we see real progress on democracy, governance and human rights".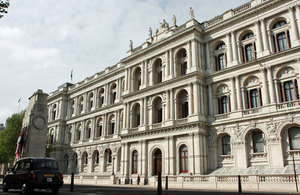 The first general election in Burma for more than 20 years took place on Sunday 7 November. Speaking ahead of the election, Foreign Secretary William Hague said:
"We know the result of these elections is already a foregone conclusion. They will not be free, fair or inclusive. More than 2,100 political prisoners remain incarcerated, opposition and ethnic parties have been refused the right to stand and a quarter of the seats are already reserved for the military.
"Holding flawed elections does not represent progress. For the people of Burma, it will mean the return to power of a brutal regime that has pillaged the nation's resources and overseen widespread human rights abuses, including arbitrary detentions, enforced disappearances, rape and torture.
"The British Government will stand by the people of Burma and will continue to maintain pressure on the regime until we see real progress on democracy, governance and human rights."
Published 7 November 2010