Foreign Secretary extremely concerned at proposed new housing settlements in the West Bank and East Jerusalem
Foreign Secretary William Hague has commented that these plans undermine Israel's international reputation and has strongly advised the Israeli Government to reverse its decision.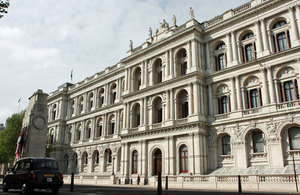 The UK's approach to the Palestinian resolution at the UN General Assembly was guided by the principle of how to create the right environment for a swift return to talks and the strongest possible foundation for the peace process. This has been our consistent message to Palestinians and Israelis alike. The Foreign Secretary advised President Abbas not to push for a vote. But he also repeatedly made clear that Israel should avoid reacting in a way that undermined these goals, emphasising in calls with Israeli Foreign Minister, Avigdor Lieberman, that the UK would not support a strong reaction.
Speaking today the Foreign Secretary said:
"I am extremely concerned by reports that the Israeli Cabinet plans to approve the building of 3000 new housing units in illegal settlements in the West Bank and East Jerusalem. Israeli settlements are illegal under international law and undermine trust between the parties. If implemented, these plans would alter the situation on the ground on a scale that makes the two state solution, with Jerusalem as a shared capital, increasingly difficult to achieve. They would undermine Israel's international reputation and create doubts about its stated commitment to achieving peace with the Palestinians. The UK strongly advises the Israeli Government to reverse this decision. The window for a two-state solution is closing, and we need urgent efforts by the parties and by the international community to achieve a return to negotiations, not actions which will make that harder."
Published 1 December 2012