Press release
Foreign Secretary extends CITES to Anguilla
As part of its commitment to defeating the illegal wildlife trade, the Foreign Office has extended CITES to another Overseas Territory.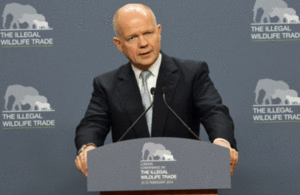 Foreign Secretary William Hague has written to the Swiss government, as depository for the Convention on International Trade in Endangered Species (CITES), to declare the UK's extension of CITES to Anguilla. This follows close working with the Governor of Anguilla on when and how the island would be able to implement and comply with its new obligations.
William Hague said:
In the week the UK hosted the London Conference on the Illegal WiIdlife Trade, I am pleased to announce that the UK has formally extended the Convention on International Trade in Endangered Species (CITES) to Anguilla. Ten of the fourteen UK Overseas Territories are now included within the UK's ratification of CITES. We are working towards full compliance across all of our Territories as soon as possible and we are committed to tackling this serious criminal industry worth more than $19 billion each year.
CITES is an international conservation agreement aimed at controlling the trade in endangered species to ensure that it is sustainable. It came into force in 1975 and was ratified by the UK shortly after in 1976.
The international wildlife trade is estimated to be worth up to $19 billion dollars every year and has seen iconic species across the world brought to the brink of extinction. A declaration was signed during yesterday's Illegal Wildlife Trade Conference in London aimed at combating both demand and supply.
Further information
Follow the Foreign Secretary on twitter @WilliamJHague
Follow the Foreign Office on twitter @foreignoffice
Follow the Foreign Office on facebook and Google+
Published 14 February 2014