Foreign Secretary expresses UK concern following Belarus elections
I urge the Belarusian authorities to ensure that all detainees are given access to adequate medical care and legal representation'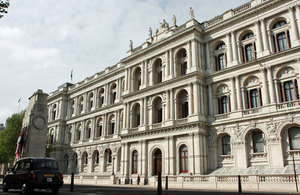 Following the Belarus Presidential elections and widespread reports of its conduct and its aftermath the Foreign Secretary William Hague said:
"The UK Government has extremely serious concerns about the conduct of the Belarus Presidential election and the reports that the Belarusian authorities responded with excessive and apparently coordinated violence. Seven Presidential Candidates and over six hundred protesters were reported to have been arrested on the day of the election.
"I understand that the conditions in which detainees are being held are utterly unacceptable and designed to punish and intimidate. I am also extremely concerned at what appear to be forced recantations, broadcast on Belarusian state media, reminiscent of the show trials of a previous era.
"I therefore call on the Belarusian authorities to release immediately all those detained for politically motivated reasons as a matter of urgency. In particular, I call on the Belarusian authorities to make known the whereabouts of the opposition candidate Vladimir Neklyaev who was forcibly removed from intensive care in the early hours of Monday morning and whose location and wellbeing are still unknown.
"I urge the Belarusian authorities to ensure that all detainees are given access to adequate medical care and legal representation, and call on President Lukashenko and his government to engage in a dialogue with political parties, NGOs and civil society with a view to allowing them to fulfil their natural role in a democratic society."
The Minister for Europe, David Lidington, met with the Belarusian Ambassador to the UK on 22 December at the Foreign Office to re-enforce the messages in the Foreign Secretary's statement.
Search the news archive
Published 22 December 2010