Foreign Secretary expresses condolences at death of Kenyan ministers
Foreign Secretary William Hague has expressed his condolences at the death of two Kenyan ministers this morning.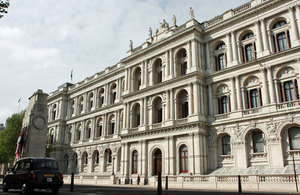 Speaking this morning the Foreign Secretary said:
"I was extremely saddened to learn of the death of Kenya's Minister for Provincial Administration and Internal Security, Professor George Saitoti, along with his Assistant Minister Orwa Ojode and other Kenyans travelling with them this morning.
"On behalf of the British Government, I wish to extend my deepest condolences. My thoughts are with their families and friends, and the people of Kenya, as they come to terms with this tragedy".
Published 10 June 2012