Foreign Secretary explains new EU sanctions on Iran
Foreign Secretary William Hague said that the EU agreed new sanctions as the human rights situation in Iran seemed to be getting worse.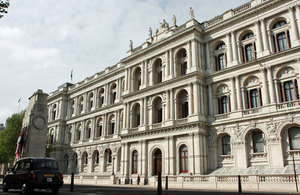 Speaking to BBC Persia about the situation the Foreign Secretary said:
"We have seen the imprisonment of opposition leaders in recent months. Already more than a 170 death sentences carried out this year. There are now more journalists in prison in Iran than in any other country in the world. And this has been at a time when Iran has been saying that people should have the right to protest in Arab countries around the Middle East; a very hypocritical approach. So, we think it is right in the European Union to take these restrictive measures. The United Kingdom also pressed for the appointment of the UN Special Rapporteur on Human Rights in Iran. I hope these two things together will send a strong international message to Iran that its human rights record is being closely watched as well as being condemned.
"These new measures will be restrictive measures and will affect 32 individuals who have instrumental in one way or another in Iran's terrible human rights record. Some of them are in the judiciary handing down sentences on the basis of vague charges. Others we think have been involved directly in human rights abuses. And so this is targeting these particular individuals affecting their assets and their ability to travel; quite separately from the sanction that have been imposed on Iran because of its nuclear programme. These are on particular individuals on their human rights record. Therefore, hopefully, it will bring home to them and to the wider world that this is a record that cannot be ignored."
When asked how effective these sanctions are, the Foreign Secretary said:
"Sanctions can be effective - for one thing it shows that the world is taking a stand; for another it will directly affect these individuals in particular their ability to travel to Europe or to use their assets in Europe. They are one of the measures that we can take and they help us focus international attention on this growing problem of Iran's terrible human rights record"
The Foreign Secretary said that it is not just the Western countries that are involved in this:
"The setting up of the UN Special Rapporteur on Human Rights in Iran is something that countries from around the world voted for at the United Nations. So, it would be wrong to think that this is just Britain or even just the European Union. Although these measures are from the European Union today, we do of course urge all countries to improve their human rights record. We have spoken out for the right of people to protest in countries like Syria and Bahrain and Yemen - and in recent events in Egypt and Tunisia and Libya and so on. But Iran's human rights record is dramatically worst than many of the other countries for whom we have made the call for the rights of people to protest. So it is absolutely right for the European Union to concentrate on this issue."
Published 13 April 2011