Foreign Secretary dismayed at announcement of Israeli settlement expansion
Foreign Secretary William Hague statement following the announcement by the Israeli Government of the creation of a new settlement at Givat Hamatos.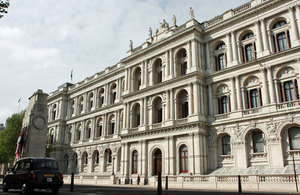 The Foreign Secretary said:
"I am dismayed by the Israeli announcement on 14 October of a new settlement at Givat Hamatos. This provocative step, which further encloses East Jerusalem, is particularly disappointing given the international condemnation of the expansion of the Mordot Gilo settlement just a few weeks ago. Settlements are not only illegal under international law, but also undermine the possibility of a two state solution to the Israeli-Palestinian conflict and those working for a sustainable peace.
"I call again for these announcements to be revoked. Together with our EU and other partners we will make very clear to the Israeli government the strength of our concern."
Published 16 October 2011