Foreign Secretary discusses Syria with Russian Foreign Minister Lavrov
Foreign Secretary William Hague spoke by telephone for half an hour this morning to Russian Foreign Minister Sergey Lavrov after the latter's visit to Syria.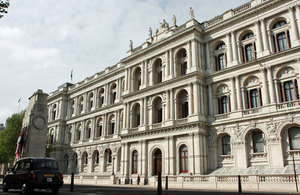 Mr Lavrov described his visit and the public commitments made during it by President Assad. The Foreign Secretary told Mr Lavrov that the UK was appalled by the continued violence, in particular in Homs.
The UK wanted an end to violence from all sides in Syria. We continued to believe that President Assad should stand down. We were not contemplating military intervention. We were in close contact with the Arab League on the way forward: their proposals for dialogue between the Syrian Government and the Opposition offered the best chance for peace. We looked forward to the outcome of their meeting at the weekend.
The Foreign Secretary raised reports that Russia was selling arms to the Syrian regime. Mr Lavrov said that such sales were not illegal.
The Foreign Secretary said that despite our disagreement over the UNSC Resolution on Syria, we would remain in contact in the search for a solution to the current crisis.
Published 8 February 2012