Foreign Secretary discusses Syria and Iran with Russian Foreign Minister
Foreign Secretary William Hague met Russian Foreign Minister Sergei Lavrov in the margins of the Heart of Asia Conference in Kabul on 14 June.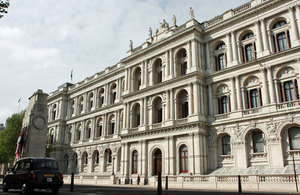 The two Ministers discussed the crisis in Syria. They agreed that the situation in Syria had got worse in all respects since the two Ministers had last met in Moscow on 28 May. The Foreign Secretary reiterated his welcome in principle for the Russian suggestion of an international conference on Syria, which he had discussed on Monday with Joint Special Envoy Kofi Annan. The Foreign Secretary said that any such conference should set out the principles of a political process in Syria, including a plan for political transition in Syria and full implementation of the Annan Plan. He underlined British concern that the possibility of Iranian attendance at any such meeting was probably unworkable. It was important that the United Nations Security Council remained seized of the situation in Syria.
The Foreign Secretary asked Russia to use its full influence on the Syrian regime to ensure a peaceful resolution of the situation through a political process.
The Foreign Secretary and Foreign Minister Lavrov also discussed the forthcoming E3+3 talks in Moscow with Iran over its nuclear programme. They agreed that it was imperative that the Iranian delegation should come to Moscow ready to engage in detailed discussion on the proposals the E3+3 had put forward in Baghdad on 22 May.
Both Ministers agreed that their Governments should remain in very close touch on these issues.
Published 14 June 2012