News story
Foreign Secretary discusses recent events with Israeli Foreign Minister
Foreign Secretary discusses events in Israel and OPTs with Israeli Foreign Minister; highlights need to avoid further loss of life.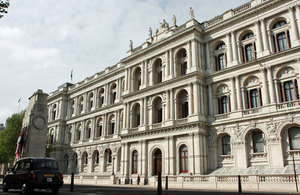 Foreign Secretary William Hague spoke to Israeli Foreign Minister Avigdor Lieberman today. Commenting after the call, the Foreign Secretary said:
I spoke to Israeli Foreign Minister Avigdor Lieberman this morning to discuss recent events in Israel and the Occupied Palestinian Territories. I passed on my sincere condolences following the tragic deaths of the three Israeli teenagers. We discussed the appalling murder of the Palestinian teenager in East Jerusalem yesterday, and agreed on the need for the perpetrators of these crimes to be brought to justice.

We discussed the need to avoid an escalation of violence that will cause further loss of innocent life. We agreed the importance of Israel and the Palestinian Authority continuing to work together. We also discussed the Iran nuclear negotiations. I made clear that the UK is fully committed to reaching an agreement which ensures Iran's nuclear programme is exclusively peaceful. To achieve this, Iran will need to be realistic about the steps required to resolve the international community's serious concerns about its nuclear programme.
Published 3 July 2014