Foreign Secretary disappointed by Russian and Chinese veto of UNSCR on Syria
Foreign Secretary William Hague says Britain will continue to stand side by side with the Syrian people and redouble efforts to work with international partners to increase pressure on the regime.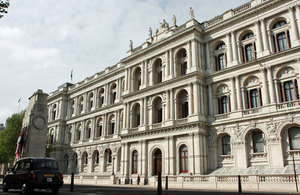 Commenting on this evening's vote in New York the Foreign Secretary said:
"I am of course disappointed by Russia and China's decision to veto the UNSCR. This will be seen in the region as a decision to side with a brutal regime rather than with the people of Syria, and will be a bitter blow to all those Syrians who have implored the international community to take a stand.
"The resolution that the UK tabled with France, Germany and Portugal was carefully drafted and entirely reasonable. It took account of the need for all sides to reject violence, stressed that a political transition should be Syrian-led and was explicit that Security Council consideration of sanctions against Syria should not include military action.
"The tabling of this Resolution followed months of horrific abuses against civilians by President Assad and his regime, during which the regime has had repeated opportunities to stop the violence and to reform had it intended to do so. Those who blocked it will have this action on their conscience.
"Britain will continue to stand side by side with the Syrian people. We will redouble our efforts to work with our international partners to increase the pressure on the regime wherever we can, and assure the people of Syria that they will not be forgotten."
Search the news archive
Published 5 October 2011