Press release
Foreign Secretary deplores Israeli decisions on settlement expansion
William Hague deplores Israeli steps on settlement expansion in the Occupied Palestinian Territories and emphasises need for lasting peace.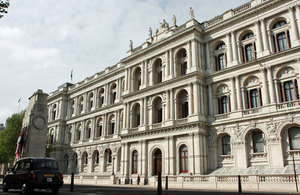 Commenting on steps taken by the Government of Israel on 4 June to issue tenders for over 1500 new settlement units in the West Bank and East Jerusalem, the Foreign Secretary William Hague said:
I deplore the decisions taken by the Israeli authorities on 4 June to expand a number of illegal settlements, many of which are deep within the West Bank, and in East Jerusalem. Such decisions can only make achieving peace more difficult.

The UK's position on settlements is longstanding: they are illegal under international law, undermine trust and threaten the viability of the two-state solution. A negotiated two state solution is the only solution to the Israeli-Palestinian conflict. I urge the leaders of both sides to demonstrate the courage, vision and urgency needed to achieve this.
Further information
Follow the Foreign Secretary on twitter @WilliamJHague
Follow the Foreign Office on twitter @foreignoffice
Follow the Foreign Office on facebook and Google+
Published 5 June 2014