Foreign Secretary deeply saddened by the death of western journalists in Syria
Foreign Secretary William Hague has spoken following reports of the death of Marie Colvin and Remi Ochlik in Homs today.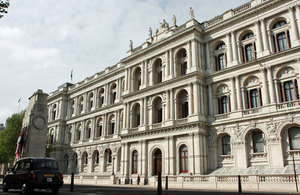 He said:
"I am deeply saddened and shocked by the tragic news that Marie Colvin and French photographer Remi Ochlik have been killed while reporting, with great bravery, from Homs in Syria. I offer my heartfelt condolences to their families, friends and colleagues as they face this devastating loss.
"Marie Colvin embodied the highest values of journalism throughout her long and distinguished career as a foreign correspondent for the Sunday Times. For years she shined a light on stories that others could not and placed herself in the most dangerous environments to do so, including suffering injuries while reporting in Sri Lanka. She was utterly dedicated to her work, admired by all of us who encountered her, and respected and revered by her peers. Her tragic death is a terrible reminder of the risks that journalists take to report the truth.
"It is also a terrible reminder of the suffering of the Syrian people - scores of whom are dying every day. Marie and Remi died bringing us the truth about what is happening to the people of Homs. Governments around the world have the responsibility to act upon that truth - and to redouble our efforts to stop the Assad regime's despicable campaign of terror in Syria."
Published 22 February 2012