Foreign Secretary deeply concerned by conviction of Ukrainian opposition politician
Foreign Secretary William Hague calls the sentencing of Yuliya Tymoshenko, deeply concerning as she is sentenced to 7 years in prison.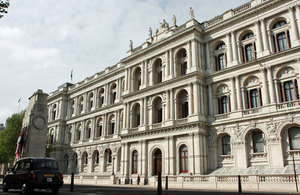 Speaking after the verdict the Foreign Secretary said:
"The conviction of the Ukrainian opposition politician, Yuliya Tymoshenko, by a court in Kyiv is deeply concerning. Independent legal experts including the Danish Helsinki Committee have concluded that Ms Tymoshenko's trial was subject to numerous and serious violations of fundamental legal principles, in direct contradiction of common European values.
"Ukraine says it wants to join the EU one day.The UK supports that objective. But that cannot happen until Ukraine can show that it adheres to the highest democratic standards, including respect for human rights, the rule of law and an independent, transparent and fair judicial process. The conviction of Ms Tymoshenko and the ongoing cases against other former members of the government call into question Ukraine's commitment to these values. This could pose a major obstacle to the signature and ratification of the Association Agreement and Deep and Comprehensive Free Trade Agreement with the EU."
Published 11 October 2011